3D, scent and decorative cards
General
The CARD EXPERIENCE line is created to involve the card owner in unique emotional experience exciting senses and mind by perfumes, colors and tactile effects. This line includes wide range of unique cards featuring strong emotional and communicative impact: colored PVC cards, scented cards, metallized, 3D and lenticular cards, soft touch cards, iridescent and transparent cards and more.
CARD WITH DECORATIVE TEXTURE
...stand out of the crowd!
Our card with decorative texture are enriched with amazing tactile and visual effects. By touching the card you will recognize represented materials: brushed metal, wrinkled orange peel, relief of the crocodile skin or honeycomb. ORANGE PEEL, BRUSHED METAL, SKIN, HONEYCOMB are among available effects.
DEPHT EFFECT
...leave your mark

Depth effect is an amazing and elegant solution for cards obtained with a particular process that creates illusion of depth and movement. Depth effect can be achieved on cards with metallized base featuring medium-large metal particles.
COLORED CORE
...give color to your wallet

A range of colored cores (red, orange, green, blue and black) suitable for any type of application. Choosing the color that is more in line with your brand you will stand out from the crowd.
MIRROR
...incomparable brightness and lightness

A special mirrored effect gives great brightness and light to the colors of the card. Ideal for highlight the graphics of the card, and perfect for any type of application.
SCRATCH&SNIFF SCENTED CARD
...recognize it blindfolded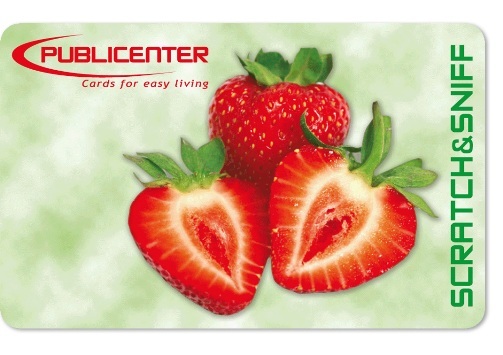 A wide range of perfumes applied in scented card's overprint are released when the surface of the card is scratched
MATT&GLOSS
...touch the difference
The combination of glossy and matt finishes create an original relief effect decorating any card design. Perfect for highlighting a detail, a logo or a text. Being difficult to reproduce it is useful as an element of security for your card.
TRANSLUCENT OR TRASPARENT CARDS
...look beyond the card

From total transparency to semi-transparency, applicable on the whole surface of partially, transparent cards are perfectly compatible with modern graphic elements.
3D AND LENTICULAR CARDS
...breathe life to images

Allows you to enhance an image, logo or text on lenticular cards using illusion of depth or creating movement effect when the image is viewed from different angles.
SOFT TOUCH
...velvet in your hands

Special painting techniques enhance card with soft touch and velvety effect for unmatched tactile feeling. The area where the paint is applied will assume an opaque, deep and strong effect.
HOT STAMPING
...sophistication and uniqueness
Hot stamping is a particular process that uses heat, pressure and a foil film. You can combine multiple colors and effects with any type of graphics to embellish card with hot stamping technique.
GLITTER/PERLESCENT
...sparkle and shine

These decorative effect with glitter and perlescent effect are made with a printing process of a layer of brilliant color, with a metallic dot effect that partially reflects the incident light.